May 31, 2023
Camp Courage is Here!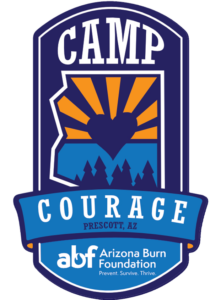 Camp Courage starts this weekend and we are absolutely thrilled to welcome our campers back this year! Camp Courage is an extraordinary therapeutic camp designed exclusively for burn survivors aged 6 to 20 in beautiful Prescott, AZ. It is a week filled with unforgettable experiences, exciting adventures, and lifelong friendships. Best of all, our dedicated volunteers will be there every step of the way to ensure the safety and well-being of our incredible campers. Here's what you can expect at Camp Courage:
Horseback Riding: Embark on an equestrian adventure as our brave campers saddle up and explore the scenic trails.
Firefighter Day: Get up close and personal with real-life heroes! Our firefighter volunteers will showcase their gear, share fire safety tips, and inspire our young burn survivors.
Arts and Crafts: Unleash your creativity and let your imagination run wild with engaging arts and crafts activities.
Swimming & Canoeing: Dive into refreshing waters and make a splash! Our campers will enjoy swimming and canoeing in a safe and supportive environment.
Rappelling & Ropes: Conquer new heights and build confidence through thrilling rappelling and ropes course challenges.
Tie-Dye: Express your vibrant personality and create unique tie-dye masterpieces that reflect your inner strength.
Thanks to our generous donors and sponsors, all expenses are covered for campers, and our highly skilled medical staff will be available around the clock to provide the best care for our campers. Together, we'll create therapeutic social experiences that foster growth, resilience, and a sense of belonging.