April 22, 2021
One Year of Programs Since March 2020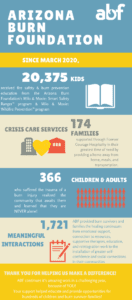 20,375 kids received fire safety & burn prevention education from the Arizona Burn Foundation's Milo & Moxie: Smart Safety Ranger™ program & Milo & Moxie: Wildfire Prevention™ program.
Crisis Care Services: 174 Families supported through Forever Courage Hospitality in their greatest time of need by providing a home away from home, meals, and transportation.
366 Children & Adults who suffered the trauma of a burn injury realized the community that awaits them and learned that they are NEVER alone!
1,721 Meaningful Interactions: ABF provided burn survivors and families the healing continuum: from emotional support, connection to resources, supportive therapies, education, and reintegration work to the installation of greater self-confidence and social connections.