February 7, 2022
2021 Adopt-a-Family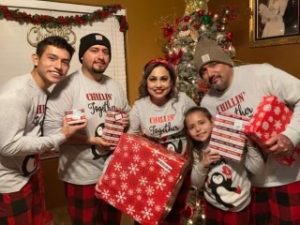 Throughout the year, the Arizona Burn Foundation provides support to burn survivors and their families through hospital visits, virtual support groups, and camps and retreats, and so much more. A burn survivor's road to recovery can become even more difficult during the holiday seasons, both financially and emotionally. It can be hard to replace lost items or cover necessary bills after a burn injury changes a survivor's way of life. That is why ABF collaborates with generous sponsors to provide burn survivors and their families gifts through our Adopt a Family Holiday Program.
The Adopt a Family program allows sponsors to adopt a burn survivor and their family and then provide gifts based on their personal needs and wants indicated on their wish list. The families who are selected are about 1 year out from their injury, are often times still attending clinic visits, and going through procedures, further affecting their financial stability. The devoted sponsor ensures that the family is gifted any necessities missing in their home from the accident or financial strain and together help push forth the mission of ABF. This program allows the survivor to enjoy the holidays with their family without having to worry about getting presents under their trees.
We wanted to take some time to share the gratitude our families have after being involved in the Adopt a Family Program:
The Lastyona family shared: We would like to thank the sponsors who adopted our family this Christmas; you brought so much joyfulness to our Christmas. Our year started off tragic but ended filled with love and support from people we never met. Thank you for making a difference in everyone's life. God Bless you always!
The Mendoza family shared: We would like to extend our thanks to you, the Burn Foundation and the sponsor who adopted our family. I cannot express how much happiness this brought my children and I feel so grateful to the wonderful people who took the time and money to make this happen.  The kids loved their toys, games, and clothes.  My son was very happy with all of his workout gear and that our family was included was really special.
Lastly, as a mom, I must say how touched I was to have people reach out with such kindness and generosity. The year was difficult and this ended it on a happy note. Thank you. I love the blanket and aromatherapy items, my favorite was the cookbook. My daughter has been making jewelry and cooking :). Wishing you all a Happy New Year, we definitely are counting our blessings!
As you can see, the Adopt a Family program makes a great impact on the lives of burn survivors and their family members and we are so thankful to our sponsors for providing a loving ending to an otherwise difficult year.