July 5, 2022
A Gift for a Camper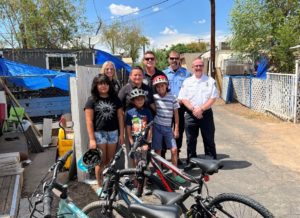 In 2019, Tim Kreigel had Angel as a camper and taught him how to ride a bike. Angel spent that whole camp attached to a bike any moment he could. Tim mentioned how much it meant to him to be able to help Angel out with such an important thing in life. On to Burn Camp 2022, John and Shawn had Angel as a camper and once again, he spent every free moment on a bike. They asked Angel if he had a bike at home and he said no. So, they had an idea to pitch in and get Angel a bike after camp was over. Shawn approached ABF during camp to see how this could be done.
After camp, ABF contacted Shawn and John to confirm they could move forward and coordinate the delivery. As John and Shawn were chatting back and forth about the idea, they asked if he had any siblings as they didn't want to show up empty handed without gifts for them. That turned into getting bikes for the siblings as well.
In the end, Shawn and John purchased Angel's bike and helmet themselves. They were able to get funds donated from Arizona Fire & Medical Firefighters (AFMA) Charites and Cottonwood Firefighters Association, the fire departments that they are employed with, to purchase 2 additional bikes, helmets, training wheels, and bike locks for his siblings.
Shawn and John say "Angel and his family are truly deserving of so much more. Angel is such a great kid!"
We are so honored to have such passionate volunteers at Camp Courage.