March 21, 2023
"My Camp Family"
Jeff has been involved with the Arizona Burn Foundation (ABF) for over 16 years throughout his career as a firefighter. He had a desire to volunteer at a camp, having grown up attending a summer camp in California, but he couldn't make the trip back and forth from his childhood camp. His Captain heard his comments and said, "Well, what about Camp Courage with ABF? Have you ever thought about that?" Jeff hadn't heard about Camp Courage, but because of his fire department's close relationship with ABF he was interested and applied to be a counselor. That was 13 years ago, and he has been volunteering ever since.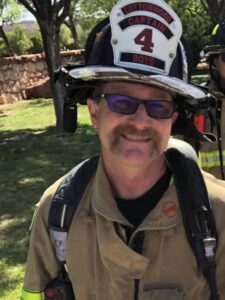 Jeff was excited when he heard he had been accepted as a counselor after his first interview and background check. He later talked to his mom about Camp Courage and the Foundation, and to his surprise, his mom told him that he was a burn survivor himself.
"….she mentioned that I had been burned when I was little. Apparently, when I was a toddler, I pulled a cup of fresh coffee off of a countertop and spilled it on my face, never realized that it happened, I don't have any scars from it, I don't remember it at all, but …. It was meant to be."
Jeff was nervous his first day at camp. He was concerned about not knowing what to expect from this new environment and meeting new people. But those feelings passed quickly.
"After that first day, even before the kids arrived, obviously, it's a big family, so I fit right in."
Jeff is very passionate about camp and ABF. He has become a community leader with ABF and organized a community event for burn survivors in Cottonwood with his fire department in October 2022. He also recruited his wife, Judy, into becoming as a Camp Courage volunteer.
"The benefit that I have now is that not only do I have my camp family, but my family has also become part of the camp family, not just myself."
Jeff continues to contribute to the Arizona burn community year after year, whether it is through volunteer hours or tax credit donations, he plans to continue being part of our family for the rest of his life. We are extremely grateful for the amazing generosity and dedication that individuals like Jeff and Judy have given to our cause. Thank you.