December 14, 2022
Road to Recovery
My name is Nelson De La Cruz Santos, this is my little story.
On the night of August 23rd of 2021, everything appeared normal and I never imagined that in just a few hours my life would completely change.
I normally would get home to our trailer at around 8pm. I always would take some time to call my wife over the phone or through text to let her know I arrived home safely after work. Due to the weather being very hot during this time of the year, I would first rest before making dinner.
I recall that the night of August 23rd, after dinner around 11pm I proceeded to shower. This month of August my work shift was from 12pm – 8pm and I was used to going to bed after midnight. That night I continued with my usual home routine. I arrived home from my work shift, rested for a bit, had dinner, showered and went to bed after midnight. I was finally able to lay to rest for my work shift the next day. I was able to sleep well for about 2-3 hours that night and since that night until today, March 9th, 2022, I have not been able to rest well due to the pain and discomfort from my burns that do not allow me to sleep well.
The morning of August 24th, 2021, between 2am-3am the horrible tragedy had already begun. We were all in a deep sleep. Three of us lived in the same trailer. My younger brother Fredibel may he rest in peace because he unfortunately did not survive the accident, and my friend Gudiel who was fortunate enough to cover himself with a blanket when escaping the fire resulting in minimal burns.
I was the first to wake-up because the sound from the fire filled the entire living room. When I woke up it was probably around 2 am, I ran to my bedroom door and once I opened it I could see that the fire had spread to the front of my door. I could see there was a second exit door because the main entrance door was impossible to escape from. I opened the door and ran to the other room about 6 feet away where my brother and friend were sleeping. I just remember only being able to bang on the door 2-3 times maybe because I already felt the burns on my body. I heard them answer and immediately jumped out of the trailer without looking back.
Screaming like a crazy person, I yelled out for help. I knew I was burned and I could feel the pain and difficulty to breathe due to the smoke I inhaled. Due to my screams other co-workers/neighbors began to come out to the street and ran to our aid. I could see that the firefighters arrived in the ambulance to rescue us. I just remember being taken into the ambulance and looking over to see my brother next to me not knowing that it was the last time I would see him as I lost consciousness. I woke up 45 days later at the Valleywise hospital Burn Center in Phoenix, AZ.
When I woke up I did not know where I was or what had happened to me. Fortunately, I had 2 family members that had been taking turns to care for me at the hospital during my time in-patient. My uncle, Nabor, and my brother, Emir, began explaining what had happened to me little by little until I was able to gain my consciousness back fully. I then began asking for my little brother and what had happened to him after the accident. I wanted to know where he was and how he was doing and although they new the truth, that my brother Fredibel has passed away, they did not give me the news because I was still so weak. They would only tell me that he was not doing too well and was worse off than me and that he was in another room where he was receiving special treatment. They did not want me to worry. Every time I would ask about him, I would get the same story.
I was finally also able to communicate with my family back in Mexico. I felt very happy to be able to once again hear my wife's voice and the voice of my children and my parents. I was also able to video call with them and although I felt happy I also felt sadness and pain overcoming me due to what had happened. My children would tell me to keep going so that I could get better and get back to them, the tears were inevitable and a knot would appear in my throat. I became speechless every time, because I was tied to the hospital bed without being able to move. It was a very hard time for my family and for myself being so far away and going through a life changing accident.
The days went by in the hospital as I continued my recovery and I recognize the care and medical attention at the hospital was so great all around from doctors to nurses and all of the burn care team who were very attentive to my care, because I was not able to do anything on my own yet. I felt so tired and weak but always had the hope I would recover and heal and with time I would see my family soon again.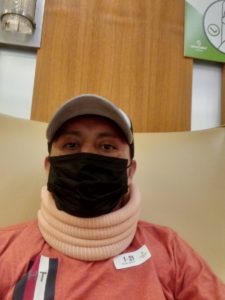 When I was in the hospital, I met Ms. Erika for the first time and I at first really did not know who she was and why she would visit me, because it is still a bit of a blur. I remember that in one of the visits, she shared a bit about her burn injury and experience and it motivated me to continue to fight through and recover so I could move forward with my life.
The moment then came when the team began discussing discharging me from the hospital. Thank God at this time I was able to fully gain my consciousness and understand more of what was going on around me, although the immense pain from my burn injuries was still very strong. I began asking my uncle and brother how we were going to pay for all of the treatment and hospital stay. They would always just tell me not to worry about it and to focus on my recovery. I was really just sad and exhausted from what had happened I could not focus on more.
When the day came for my discharge, which was November 1st, 2021, around 3pm, I asked my brother again how we were going to pay to be able to cover the hospital stay and treatments. He shared with me that Erika from the Arizona Burn Foundation was helping us financially to pay for medications and any other equipment and garments that I needed once we left and that the emergency insurance was able to cover the hospital stay. He shared that ABF was also able to help us with meal vouchers, gas and food cards since I landed in the hospital. I felt relief in knowing that there are people out there with kind hearts that spread this great generosity.
I, Nelson De La Cruz Santos am very grateful for all of those that are a part of the Arizona Burn Foundation and those that are able to support it through sponsorships and donations so that the Foundation can continue to provide support to other survivors in need.
I will always be grateful because not only was I helped financially, but the Foundation has also committed to covering 8 months of physical therapy for my recovery. Thank you to Ms. Erika who represents ABF, which was able to help cover my pressure garments that will help smooth out my scars.
The hardest news I had to hear was when I was told my younger brother had perished in the accident. I was given this news once I was discharged from the hospital. I thought he was alive the whole time I was recovering in the hospital, but that was far from the truth. Even though 7 months have passed, it has still been extremely difficult to get over and to accept. Maybe with time it will get easier.
Going through this accident has been very painful because the recovery portion is very slow, but through faith and hope God gives us a second chance. Thanks to the help and support of people with kind hearts it is possible to move forward in life as long as you don't lose hope.
This is a bit of my little story. Even though I feel better today, I know I have a long road of recovery ahead of me. I still deal with a lot of pain on my scars and when I move my arms, but I know that moment will come when all of this that I am going through will become a part of my past with the help of God and the Foundation's support.
I have faith in God that I will once more be able to get back to work so I can continue to strive for a better future for my wife and kids. This is why I was working, it was to fight for my family's well-being and just like I had to leave my family, one day I will also have the privilege of getting back home to be with them and hug them once more.
I once more would like to thank Ms. Erika for all of the support that she has provided me. She always had time to visit me and make a call to me or even accept a phone call from me. She would make the time to check-in and see how I was doing and to motivate me to continue to heal. From the bottom of my heart, thank you.
-Nelson De La Cruz Santos
My little story based on my real life injury
The Arizona Burn Foundation has been involved and following the case of Nelson since his accident in August. We have provided support to the family in the form of funeral expenses for Nelson's brother who passed away. Emotional support has also been a great form of support for uncle and brother while Nelson was still sedated. Once Nelson regained consciousness, our client care services team was right at his bedside providing extensive emotional support to him and his brother.
Nelson has since been discharged from the hospital to live with close family and friends nearby. With very limited resources, Nelson has been able to rely on ABF to help with continued financial support through medical equipment, garments, adopt-a-family and continued physical therapy that has aided his recovery. Nelson shares that his recovery has progressed slowly but is continuing to feel optimistic about his progress and at this time is continuing to seek treatment through the Burn Center that is helping him regain his independence.
ABF will continue to be involved in Nelson's recovery path and continue to connect him to the strong community of burn survivors near him as it is crucial in a burn survivor's journey to recovery.