April 6, 2021
Will you invest in families in Tucson?
For the last 5 1/2 years, I have been given the opportunity to walk alongside our burn survivors and families in my position as the Director of Client Care Services at the Arizona Burn Foundation. Prior to this role, I worked for almost a decade as a Child Life Specialist with this same burn population at the Arizona Burn Center. Throughout this duration in burn care, I have come to recognize more fully the needs of burn survivors and families throughout their healing continuum: from emotional support and connection with resources to supportive therapies and education and reintegration work to the installation of greater self-confidence and social connections in their communities. Will you consider helping burn survivors in Tucson to receive this healing continuum support?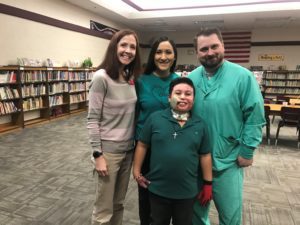 Several weeks ago, we shared with you the story of Damian. I have been part of Damian's burn journey since his admission to the Arizona Burn Center over a year ago. Damian has been able to accomplish so much in his first year of healing: school return, social confidence, and big gains in mobility and independence. Damian has been able to fully engage in many of our virtual programmings for survivors and truly blossomed in his social engagement, confidence in self, and ability to connect with others and life again. Although Damian will require more surgeries and medical care in the future, with our partnership with the Arizona Burn Center, ABF will continue to be there for Damian and his family to provide garments, medical supplies, therapy support, emotional support, and other critical care needs as their journey of healing continues.
As burn care and treatment expands throughout the state, ABF wants to ensure that other burn survivors and families have similar opportunities for treatment and support in healing. Our growing partnership with burn care and treatment at Banner University Medical Center Tucson encourages us to build our programming and supports coordinately, so that these Tucson burn survivors and families receive similar supports in healing to those in Phoenix, just like Damian and his family. Our Client Care Services Team at ABF plays a big role in building this involvement and presence in burn healing – particularly to those parents of our youngest burn survivors: helping parents learn about treatments and therapies, providing connection to needed resources and supports in the community, and walking alongside survivor and family both to process through the myriad of surrounding emotions in burn recovery
Our burn survivor families need you. Families like Damian's need you. By donating toward ABF today, you can help make our programs and services in the burn community more accessible to all in need throughout Arizona. You can bring about greater opportunities for emotional support, connection with groups and peer mentors, financial assistance in times of great need, lodging support for lengthy stays, and so much more! You as an ABF partner and donor have an opportunity to walk alongside those who have suffered burn trauma and help them realize that they are NEVER alone. And THAT is something worth supporting.
As a seasoned professional in burn care, as well as a parent myself and a member of our Arizona community, I can attest to the need for your support to ensure that we continue our ABF mission and the expansion of programs and supports to our Tucson burn survivors and families as well…and those throughout the state of Arizona. Your support today can help us impact more lives, affect greater healing, and yield a lasting difference in positive burn recovery!
Gratefully,
Lori Janik, LMSW, CCLS, CTP
Director of Client Care Services
Arizona Burn Foundation
P.S. Did you know your donation today could qualify for Arizona Charitable Tax Credit? Any gift you can provide truly does help make a difference in the life of a burn survivor and their family.