July 3, 2023
Camper of the Year 2022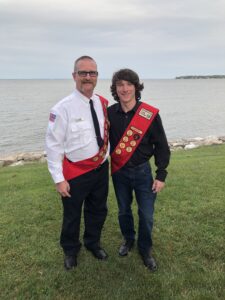 Every year at Camp Courage one camper and counselor are nominated to attend the International Burn Camp in Washington DC. in 2022 Jeremy was nominated to attend that year's international camp along with Jeff as his counselor partner. A year later at Camp Courage 2023 Jeremy came back and was excited to share his experience in DC with the rest of the campers.
Much like Camp courage Jeremy was able to meet other burn survivors from different states his age who had similar experiences. It made him realize that there were so many others who understood what he went through, and it gave him hope and made him feel united with them. Jeremy felt like he belonged at the camp right away.
He shared that exploring DC and seeing the monuments was really cool, because it was so different from anything he had seen in Arizona. He said one of the funniest things that happened during the trip was when he and Jeff got lost in one of the museums. He made so many amazing memories and friends during the trip that he took home with him at the end of the week.
Every step he took and every friend he made added to the incredible journey he was on. Jeremy became really close friends with two other campers named Jay and Kayana. They understood each other because they had been through similar experiences, and their friendship was strong even after the camp ended.
Much like when he first began attending Camp Courage as a kid it was hard for Jeremy to leave his familiar life and try new things, but he faced those challenges with bravery. He learned that when you step out of your comfort zone, you can grow and discover amazing things. He tried their ropes courses and even did a thrilling leap of faith. Every activity made him feel alive and filled with joy.
The most important thing Jeremy learned at the international camp was that he wasn't alone. There were other kids who have faced tough times too, and being together gave them strength and support. Overall, Jeremy's journey at the International Burn Camp was life changing. It gave him new perspectives, made him stronger friendships, and helped him feel confident and accepted. His story shows how important camps like these are for burn survivors across the nation.
Jeremy was excited to go back to Camp Courage this year and share his experiences with others. He missed his camp community and was excited to start his new chapter at camp Courage as a Leader In Training (LIT). He's ready to give back to other burn survivors in his community. Everyone is excited to see the positive impact Jeremy will make on his fellow campers.