October 24, 2023
Glenn Jordan's 'Raise Your Bar' Fundraiser: Building Resilience and Support for Burn Survivors
In a world teeming with tales of resilience and determination, Glenn Jordan's story shines as a beacon of unyielding human spirit. A burn survivor with an incredible journey of survival and recovery, Glenn is on a mission to leave a lasting impact on the lives of others. On November 19, 2023, he will undertake an astounding challenge: completing 2,000 pull-ups in just 12 hours. But this remarkable feat transcends personal achievement; it's a fundraiser for the Arizona Burn Foundation, and it coincides with the most crucial time for fire safety—the Thanksgiving season.
Thanksgiving is synonymous with gratitude, family, and feasts, but it's also when home fires, particularly cooking-related ones, peak. Statistics reveal that Thanksgiving witnesses an annual average of 1,600 cooking fires. It's precisely why Glenn chose this moment for his incredible journey. He aims to raise awareness about fire safety and make a tangible difference for those affected by burn injuries during the holiday season.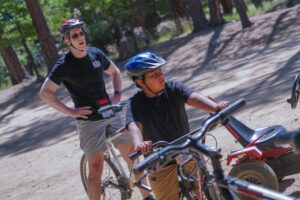 Glenn's journey towards this ambitious goal commenced with a dedication to fitness. In January 2023, he set out to complete 10,000 pull-ups in a year, averaging about 28 per day. His motivation received a significant boost during his attendance at Camp Courage in June, where he met young burn survivors from across Arizona. Inspired by their stories, Glenn decided to push his boundaries and channel his passion for pull-ups into a fundraiser for burn survivors and their families.
In just four short weeks, Glenn transformed his daily routine, increasing his pull-up count from one hour to an astonishing 4.5 hours, resulting in a remarkable 900 pull-ups. With unwavering dedication and an unshakable spirit, he has made significant progress towards his goal, consistently pushing his limits. Glenn's journey encompasses more than just pull-ups; it exemplifies how resilience and determination can lead to profound change.
As Glenn takes on the challenge of completing 2,000 pull-ups in just 12 hours on November 19, 2023, he needs your support. You can become a part of this incredible journey, a mission to promote fire safety, and a commitment to make a genuine difference in the lives of burn survivors. Your backing for Glenn's 'Raise Your Bar' fundraiser will enable the Arizona Burn Foundation to provide essential resources, rehabilitation, and support to those affected by burn injuries during the holiday season and beyond.
Glenn Jordan's 'Raise Your Bar' fundraiser is a testament to the extraordinary power of determination, resilience, and the innate human capacity to make a positive impact on the lives of others. As he stretches his limits to complete 2,000 pull-ups, we can all be part of this inspiring journey. Join Glenn on November 19, 2023, in supporting the Arizona Burn Foundation and raising awareness about fire safety during the Thanksgiving season. Together, we can create a tangible difference and demonstrate that, one pull-up at a time, we can rise above challenges and assist those in need.