May 18, 2021
Stronger Together
Hello, all! We are part of a big family from Tohlaki, New Mexico – a little town north of Gallup, New Mexico. We are Martin and Leanna Lastyona, proud parents of two awesome young men: Koban Lastyona, 13, our oldest and Martellis "Colt" Lastyona, 3, our youngest.
Never in our life would we ever imagine our sons being challenged with any type of major burns. On February 13th, 2021 – a Saturday morning – our youngest son Colt fell backwards into a pot of boiling beans that we were planning to have for lunch. All our plans were put on hold, and we rushed our son to the nearest hospital in Gallup. From there, we were flown to Valleywise Health Hospital, and admitted into the Arizona Burn Center.  Colt's wounds consisted of 2nd and 3rd degree burns, from the middle of his back to the back of his calves – what started out as a 25% TBSA burn.  All of the nurses and doctors kept reassuring us that he was in the right place for treatment. Martin and I were more concerned about getting our son help, and not really worrying about ourselves or our needs. We came here with no place to go but were just planning to rest in our car. Thankfully, the hospital staff reached out to the Arizona Burn Foundation for us.  That's when we met Lori. It was like an angel coming to our rescue; the Arizona Burn Foundation gave us a place to stay, and Lori provided an ear to listen and voice of reassurance when we needed to talk.  We are so grateful to the Arizona Burn Foundation for reaching out to us, and helping us stay by our son's side throughout his healing journey.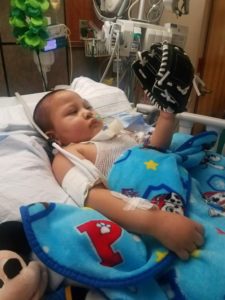 Colt has gone through numerous surgeries since his admission to the Arizona Burn Center. One day early on in his treatment, we walked into his room and saw that the surgeons had intubated him. It was heartbreaking not being able to hear him speak or share his favorite pizza with him. During his first week in the hospital, Colt was fully grafted, and we were so happy…but then for some reason his grafts got infected and his burns got worse; he went from a 25% TBSA burn to 50% TBSA burns in a few short days as the infection took hold. And he lost all of his grafts placed. When our son finally got better from the infection with antibiotics, rest, and lots of quality care, the burn surgeons decided to take a slower route of grafting and healing to better heal his burns.  This meant that the burn team would work on grafting parts of his body a little at a time, and he would have a lengthy sedation and ventilation need, meaning that they would also place a trachestomy tube to aid in this extended intensive care unit healing needs. It was a hard decision for us to agree with, but we also just wanted to do what was best for our baby. We had to hide our food and drinks from him when we came to visit each day, because we now couldn't feed him or let him drink anything for almost 2 months. Colt was sedated, on the ventilator, and with a feeding tube throughout that time, as the doctors slowly grafted the burns throughout his body.
Colt has now been in the hospital for almost 3 months! Just two weeks ago he passed his swallow test, and was able to start eating and drinking again.  He still has a feeding tube in his nose, and he still has his tracheostomy tube in place, but he is no longer connected to a ventilator nor needing much oxygen support at all. Even despite these attachments – and some grafting still ahead – Colt is able to smile, blow kisses, and show all the nurses his muscles (he is quite the charmer)!  Martin and I had not heard his voice in months, which felt to us like years, but with the help of the respiratory team and speech therapist, he was able to speak to us for the first time since the accident just a week ago!  One word at a time, hearing "hi," "mommy," "daddy," and "pizza" were the sweetest things we had ever heard.  Just last week as well, we finally moved out of the intensive care unit, and into the pediatric unit on the 7th floor…which means that our baby is improving!  Colt can now eat all the pizza and drink all the water he wants, and when he is feeling great, he lets us put his speaking valve on his tracheostomy tube and we get to hear him speak too. We are enjoying his continuous hugs, kisses, smiles, high fives, and thumbs up's. Seeing him work with the physical therapy team now as he learns to walk again is hard, but seeing how satisfied he is when he reaches his step goals – and seeing everyone clap and cheer for him – makes him believe more and more in himself every day. We are so proud of all of his accomplishments.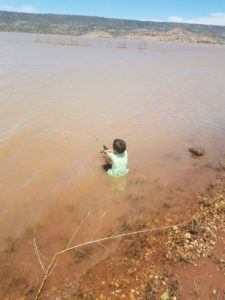 We never knew how our son's healing process would show us how to be strong and believe in the faith that we were raised on. Seeing our baby go through numerous surgeries and procedures – many painful – is something that we could not comprehend, but seeing other parents go through what we are going through also has made us open up and share our experiences in healing with others. As time has progressed, so has our own ability to cope and to heal along with our son. We went from being totally broken to being pieced together … just as how the surgeons have been putting our son back together, carefully and thoughtfully.
We are so grateful for all the support that has helped us in this healing process – the lodging support from the Arizona Burn Foundation; the regular visits, emotional support, and encouragement in healing; the connection with other families and survivors in peer support visits; and the greater awareness of even more supports ahead in Family Camp, school reentry programs, and financial and community resources in the transition back to home in the future. Each day has been challenging, but seeing his smiling face reminds us that none of this hospital stay is permanent, and that his burn injury has a greater value and story for him to tell and share ahead. Colt is determined to heal and be back to home soon, playing with his cousins and brother, fishing in his favorite streams, joining in on our family nerf gun battles, and just getting back to the good life. Colt – and we – are learning our greater strength together in this healing journey…and how this will allow us to give back and help support other families along the way, too.