June 17, 2021
Wakanda Strength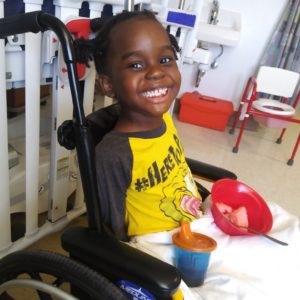 Storm was injured in September of 2020 when hot cooking oil spilled onto the kitchen counter and into his lap. Storm was rushed to the emergency room at the Arizona Burn Center with burns that covered 18% of his body. Throughout the next 4 weeks, Storm went through multiple surgeries to clean up and graft the wounds. He also went through hours of physical therapy to help him relearn how to walk and move independently.
Prolonged hospital stays can be scary for anyone but especially for children who may not understand all that is happening. While ABF is there to provide emotional support to Ashley, Storm's mom, and the rest family back home, the hospital's Child Life Team provides support to Storm. Storm met frequently with Child Life in the hospital to do activities and learn more about his wounds and treatments. His Child Life Specialist Andrea shared that "during tough moments, Storm found strength in the words 'Wakanda Forever'. It was his go-to phrase that empowered him to keep fighting." As time went on, Storm grew stronger and more confident. "Storm was sometimes shy around hospital staff, but he was great at communicating what he needed. During dressing changes, Storm was observant and helpful. He would let the nurses know if something hurt or if something needed to be adjusted."
When Storm was finally able to go home, his family celebrated his arrival with a party planned just for him. They made his favorite dinner – breakfast! Storm's siblings took turns asking questions and assessing Storm's dressings. Since discharge, Storm has had multiple visits to the clinic to assess the healing of his wounds. Recently, Storm returned to the Arizona Burn Center to have laser treatment to his scars and get fitted for compression garments to further help his healing. Ashley said that Storm was nervous upon walking into the hospital, but his mood changed when he saw his Child Life Specialist, Andrea again. "When I visited Storm during his first burn clinic appointment, he was all smiles. He tried to play tricks on me and was very playful. Considering he was a bit shy while in the hospital, I was not expecting him to be so exuberant during his clinic visit. It was apparent that spending time at home in his normal environment was beneficial to his healing," said Andrea.
The time spent healing at home was made easier with the support of ABF's virtual programming. An ABF social worker checked in with the family regularly, answering questions and providing space to talk and share feelings. Storm and his family were also able to participate in ABF's Virtual Family Camp, which helped everyone sort through the complex feelings that arise when a loved one is burned. During Family Camp, Storm sat with his siblings at the table for family dinner and he made expressive art pieces that showed how he was feeling inside. He had the opportunity to connect with other kids who looked just like him and share in fun moments with the superheroes of ComiCare. At the end of the week, he was celebrated for his strength and determination in healing.
Storm's mother had this to share about her son's strength during that month in the hospital:
"My son Storm is now 5 years old but was 4 when his accident happened. Unfortunately, we can't guard them from the terrible thing's life throws at us, but he has become so much his own superhero that I am truly amazed. He surprises me every day with his courage and resilience, and I am so proud to be called his mom. His favorite superhero is Black Panther and with good reason – he has displayed "Wakanda Strength" through his whole experience. So glad that the ABF has welcomed us like a family, because sometimes we need that extra support. Thank you!"
ABF is excited to see where Storm's 'Wakanda Forever' strength takes him this year!